Speed, resolution, and build area for powder bed fusion
The LUXBEAM® Rapid System LRS-MCx WX NIR removes the traditional limitations of polymer-based powder bed fusion (PBF). With unprecedented near-infrared power and flexible static or scrolling arrangement options, the subsystem opens new doors for high-throughput, high-resolution additive manufacturing using PBF.
Recommended use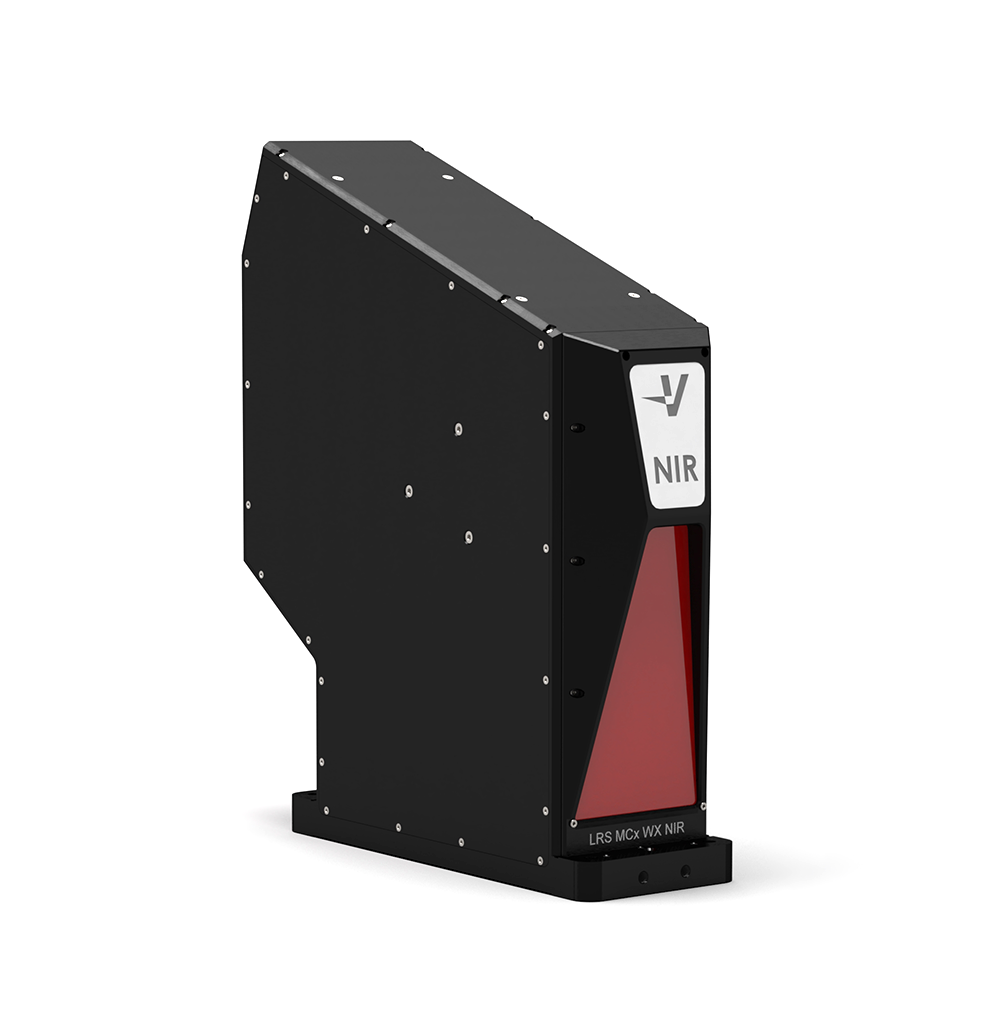 Maximum throughput
in powder bed fusion
Visitech introduces the LRS-MCx WX NIR light engine, providing unprecedented near-infrared power of more than 100 W in the projected 2D image. The subsystem offers a path toward high-productivity systems for polymer-based powder bed fusion (PBF).
An alternative to classical selective laser sintering (SLS) technologies – where the polymer material is heated up sequentially, point-by-point, and layer-by-layer, the LUXBEAM® Rapid System LRS-MCx WX NIR rationalizes toward a pure layer-by-layer approach, with instant 2D imaging.
Direct Image Sintering (DIS): The new PBF method
Visitech's new DIS concept uses DLP and powerful IR laser diode arrays to substantially increase print speed, resolution, and build area over traditional polymer PBF methods. Exposing the entire print layer in one shot is the critical driver of build speed.
Applying Visitech's scrolling subsystem, stacking multiple, powerful IR light engines in a motion stage that scrolls them over a vast build area, effectively removes established polymer-based PBF limitations.
With the DIS concept's ability to maintain high resolution across the build area, a world of opportunities opens for innovative system builders seeking actual mass production capabilities for their polymer powder bed fusion systems.
Accelerating powder bed fusion
The liquid-cooled LRS-MCx WX NIR modules offer stackability for stitched images in static, step-and-flash, or scrolling configurations. For single-pass linear motion systems, this enables the highest manufacturing throughput.
In addition, alignment features grant pixel-precise alignment of the modules. Featuring the highly robust and reliable high-resolution DLP650LNIR WXGA chipset, the system operates with an external, fiber-coupled NIR laser in the 800-1200 nm range.
Unique light source
The LRS-MCx WX NIR light engine comprises a proprietary integrated laser diode module for maximum control in throughput, safeguarding system components such as the DMD at their best – for static or dynamic implementations.
Advanced controller
The LAMA STANDARD software package and API allow you to choose any motion controller in their basic configuration for the LRS-MCx WX NIR. 10G bandwidth even allows streaming. For advanced users, the LAMA PRO software version allows advanced operation modes, including subpixelation (improved surface finish) and edge blending for perfect stitching. However, achieving maximum performance and complete functionality requires a dedicated motion controller configuration.
LUXBEAM® LRS-MCx MOTION STAGE:
Plug-and-play solution for multihead scrolling
Enlarging the build area
While introducing multihead scrolling as the most advanced solution for scaling up 3D print stereolithography system productivity, Visitech adds a plug-and-play reference stage to its portfolio. Implementing scalable motion systems allows for enlarged build areas. It is designated for expert static 3D print machine developers and manufacturers, who will find that the improved productivity of the LRS-MCx motion stage opens new business opportunity exploration.
Flexible motion stage platform
Designed for installation in bottom-up and top-down configurations, the motion stage rooms up to four LRS-MCx photoheads. A wide projection lens selection enables various configuration options, allowing for seamless stitching of native images – with pixel pitch as small as 50 microns. The flexible platform of the motion stage is suitable for UV stereolithography and works equally well in polymer-based powder bed fusion installations.
Properties
DMD Type
DLP650LNIR 0,65" WXGA (NIR)
Resolution
1280 x 800 px
Projector Output Power
Up to 100 W depending on the laser wavelength and input power
Laser Output Power
Fiber Laser between 800 and 1200 nm (not included)
Power Uniformity
> 90% native
Dimensions w/o lens
305 mm (H) x 92 mm (W) x 240 mm (L)
Total weight w/o PSU
4 kg
Power consumption
650 W (per module)
Cooling system
Liquid cooling
Software
Complete API (Windows, Linux), platform-independent web interface
Advanced Control SW package (optional)
| Electrical connections | Signal |
| --- | --- |
| Power supply | 12 V DC |
| Gigabit Ethernet | 1000BASE-T (IEEE 802.3) |
| Communication | Ethernet (platform-independent web interface) |
| LED Safety Switch | LED enable/disable |
| Electrical Sync I/O | RS 485 |
| Optical sync I/O | 820 nm multimode fiber |
Lens Options
Magnification
Working Distance [mm]
Pixel Pitch in image [μm]
Native Image Size W x H [mm2]
MCx 1.85x NIR
1.85 : 1
70.0
20.0
25.6 x 16.0
MCx 3.7x NIR
3.7 : 1
150.0
40.0
51.2 x 32.0
MCx 7.0x NIR
7.0 : 1
220.0
75.0
96.0 x 60.0
MCx 16.0x NIR
16.2 : 1
210.0
175.0
224.0 x 140.0
Other lens options are available upon request. All specifications and features are subject to change.
Need more details?
We have more information for you! Please get in touch.